INTERVIEW: Brett Eldredge on Self-Titled Album He's 'Been Waiting To Make'
Brett Eldredge released his self-titled third studio album, and it's "the album [he's] been waiting to make for a long time."
Brett's new record follows his 2016 holiday album Glow and his 2015 studio album Illinois, and showcases 12 new very truthful, personal songs. These include lead single "Somethin' I'm Good At," along with other previously released tracks like "Love Someone," "The Long Way," "No Stopping You," and one of his favorites: "Castaway."
On Making His Self-Titled Album his "Big Career Album"
Brett recorded his latest album in an actual castle just outside of Nashville. He tells us, "It's a really cool recording studio. What I loved about recording this was the fact that I could go way out in the country away from the world and really just get down to my love for music. It's nothing against any other studios. There are amazing studios, but I was able to not think about the business of it all, and just make the record I wanted to make, and really just spend the time with the songs that I felt [they] needed."
The Illinois-born country star is calling his self-titled album the "most honest" album he's ever made, and put more hours into making this record than anything else he's ever released. He tells us of the reason behind making his third studio album self-titled, "At first, the thought of making this a self-titled album kinda freaked me out because, you just look at the album art and it's just your name. There's no title or anything, it's just your name. And I was like, 'I don't know, that's a big risk, that's really putting yourself out there.' But I think that this album puts myself out there, and that this album is more truthful to me as a person and as an artist than anything I've ever done."
Furthermore, Brett says that this album has been a long time coming. He wanted this to be a career-defining moment. Eldredge explains, "I wanted to make this album that big career album. I've had two really successful albums. Now people know me and my music, and now I want to show them what I really got. And not that I didn't before, but this is the album I've been waiting to make for a long time, and I think it'll show."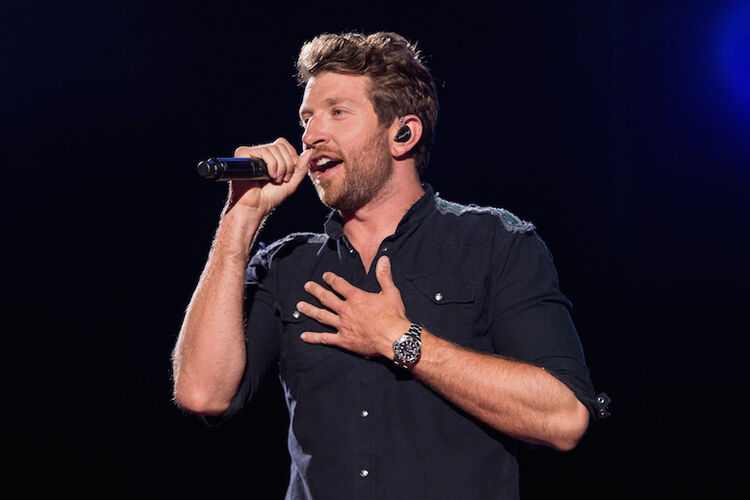 On the Meaning Behind "Somethin' I'm Good At"
Brett kicked off this new album with its lead single "Somethin' I'm Good At." The song was the result of a five-hour writing session, co-written with country music songwriter Tom Douglas. Brett tells us of the meaning behind the song:
"The meaning behind 'Something I'm Good At' is simply you go through life, try a lot of things, have fun, be yourself, be crazy, be spontaneous, screw up a lot of things, do a lot of things bad, you'll find something you're good at, and you'll find something that someone's gonna love you for, and it's usually you being yourself. And it's putting a smile on their face. And look, you found something I'm good at. I finally found something I'm good at. And that's what it's all about."
On Working with New Songwriters & The Meaning Behind "Castaway"
Brett explains that this album has been a graduation for him in terms of songwriting, melody, and lyrics -- there is "definitely more depth." He even worked with some new songwriters, and a few that "didn't have a whole lot of success yet" (a bold move to make if you're trying to put together a "big career album"). Brett says, "That's what it's all about, is sharing this with other people, and sharing success, and sharing the ups and downs of all of it. That's what makes an artist. And a lot of these writers, all of these writers, and all the people that I made this album with make me the artist that I am. It's a team effort, and we definitely put a lot into this one."
While it's hard for Brett to pick a favorite song, he is partial to "Castaway." He explains, "It rounds out the whole album on track twelve. There's so much tension in it, and I feel very vulnerable when I sing it because it's so truthful to my story of love. It's kind of my letter to love, and how I always run away from it, and always find myself wanting to work my way back. I think it's a special song."
Fans can listen to Brett Eldredge's new self-titled album on iHeartRadio now.