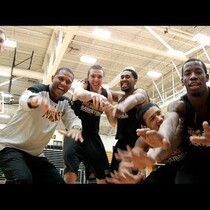 Posted March 16th, 2014 @ 7:57pm
The Panther men's basketball team, a 15 seed, faces Villanova this Thursday in Buffalo, NY in the NCAA tournament. But it looks like they can't wait for "The Big Dance" to get underway before. Some of these guys can dance; some need to stick to hoops.
Is it just me or does it look like coach Rob Jeter is the happiest one out there? And maybe the best dancer, too?