Cell phone crashing, a new trend?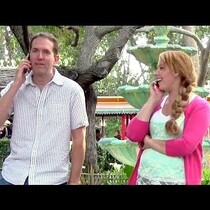 Posted March 28th, 2014 @ 10:01am
Greg Benson is a comic who started what he calls "cell phone crashing" while waiting in line at the post office one day. Cell phone crashing is when a person responds to another person's rather loud cell phone conversation in a public place. Greg has since done it at airports and one of his videos has over 8 million views on You Tube. Here he is doing it at Disneyland. The reactions of some of these people is priceless...
Remember: Greg is a professional. do not try this at home.